2023:

Dates:
2/5, 2/19, 3/5
3:00–6:00 pm: 3:00 Class, 4:30 Jam.
CLASS
We will explore rolling, falling and flying in CI with the safety of mats as our floor. Dojo comes from "Do-", a variation of Tao/Dao (the way) and "jo" (immersive learning space). Contact Dojo is a space to explore movement pathways that are in connection with physics and with ease and natural tone in our neurology and cells.

The slow and subtle brings us to the big and enthusiastic, and vice versa. Centering, perception, inertia of motion, solo/lead/follow, reflexes, experimentation, readiness, rigor, heart, and enlivening will all be in the mix. A broad range of CI will be present — states, skills, scores/Underscore, life learnings.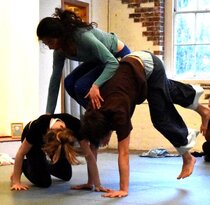 January Workshop 2012 © Emily BowmanJAM
The jam will be open space to play and practice — with music and possible structure/warm-up.
For those experienced and new to CI, honoring different abilities. ~10–25 people. Must register in advance. Please read COVID safety agreements. You can attend only the class or only the jam if room. Emphasis will be given to those coming to both class & jam. Please arrive a little early.
What is Contact Improvisation?
REGISTRATION & PAYMENT
(sliding scale: low–regular–abundant)
If unemployed or student, please contact Patrick about further discount.
Make Payment
INFO & QUESTIONS: Email, (617) 320-9792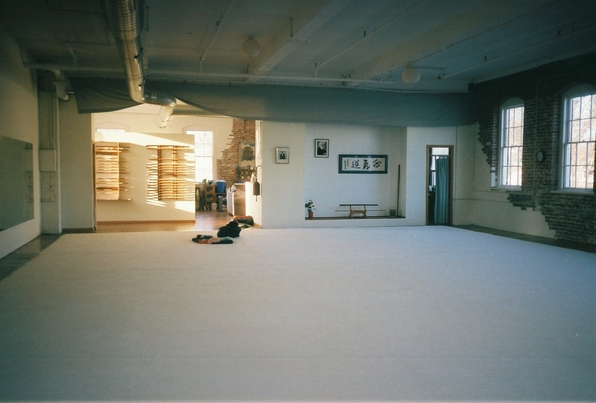 Aikido of Northampton Dojo © Emily Bowman
Patrick Crowley has been engaged with Contact Improvisation and dance improvisation since 1983. He has taught at numerous dance centers, festivals, and universities both nationally and internationally, including Yale University, Boston University, Argentina Contact Festival, Freiburg Festival, Earthdance, among others. He is a Coordinator of the Global Underscore. He worked with Nancy Stark Smith closely until her death in 2020, and studied or performed with many prominent teachers in CI including: Andrew Harwood, Kirstie Simson, K.J. Holmes, Daniel Lepkoff, Nina Little, Alan Ptashek, and others. Patrick has a background in modern and contemporary dance, Body-Mind Centering®, bodywork, yoga, theatre (Playback Theatre, Action Theater), contemplative practices, expressive arts, and

martial arts.

He has performed with various dance and theatre companies, including the Underscore +/- Group, Zany Angels, Six and 1/2 Project, and Boston's Access to Theater.

He was certified in bodywork by Sensei Toshiko Phipps and Nationally Certified in 1993 and currently teaches Playback Theatre, Yoga, and somatics, in addition to Contact Improvisation.
---