---
Contemplative Dance Practice
Contemplative Dance Practice (CDP) was developed by Barbara Dilley, who integrated Buddhism and dance. Chogyam Trungpa Rinpoche, Tibetan meditation master, asked her to design the dance program at Naropa University, which he founded. Barbara's book, This Very Moment, has a chapter on CDP.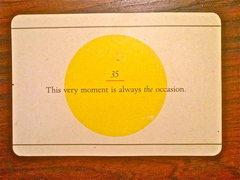 Quote by Trungpa Rinpoche, Barbara Dilley website
The practice is not led, except for the ringing of the bells. This is an hour-long version and has 3 main sections: Sitting, Personal Warm-up, Open Space.
Weekly outside CDP year-around:
Friday, 1:30–2:30 pm
Childs Park, Northampton, MA. Info
This practice is an off-shoot of a weekly CDP that Nancy Stark Smith rung the bells for at Studio Firenze for many decades.
---
Description of CDP
Place your cushion to create an open area in the center.
(ding of bell)
• 20 minutes Sitting Meditation
(ding of bell)
• 20 minutes Personal Warmup (or Personal Awareness Practice)
Stay at cushion or go into the center of the space. Focusing on a self practice and, quoting from Barbara's book: "In Personal Awareness Practice, explore your way of bringing meditation awareness into movement in this very moment…It's time for self-care, research, and courting the unexpected. Wait for sudden images and sensations to surprise you, to move you. Follow them. Develop them. And rest often. Encourage Kinesthetic Delight."
(ding of bell) Return to cushion
• 20 minutes Open Space
You stay sitting with awareness or go into the center or space around cushions. A short bow to enter and to exit the space (returning to cushion). Come "in" as often or as few times as you feel. There is an awareness of community, though still individually sourced.
(ding of bell) Return to cushion
• 1-2 final minutes Sitting Meditation
(ding, ding, ding)
• All bow, together, to the space.
The End.
---

The unknown becomes a friend,
absurdity is worn well, fear is gently smiled at.
The making-a-fool quality is always present
when you stand at the edge of empty space
and . . . willingly take the first step.
~Barbara Dilley

---