WHAT'S HAPPENING NOW
Contact Improvisation series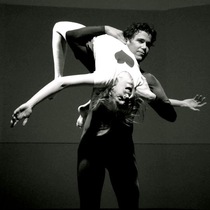 Patrick Crowley and Rose Oceania
Photo by Nina Gerzon Mixed Level
with Patrick Crowley
date TBA

flying
rolling
falling changing level
moving spherically
supporting
play

We build kinesthetic skills and new perceptual awareness through moving in contact with others.
This class is great for people wanting physical exploration, embodied philosophy, fitness, play, meditation, and creativity.
We will learn to access different body mind states internally in the body and externally in space.
Tuning our bodies to the forces of gravity and momentum - we let go of excess tension to find ease and vitality.
We will play with various improvisation structures, including elements of the Underscore, to build attunement. Our explorations will bring subtlety, fullness, and flight to our dancing. Classes consist of warm-up, exercises, movement puzzles, and jamming!
For those new and experienced to CI. Drop-ins (with experience) welcome.
Register & Payment
(non-refundable)
For payment from bank account:
Square Cash
send to patrick (at) patrickcrowley (dot) net
For payment from credit card:
Patrick Crowley
has been engaged with Contact Improvisation for over 34 years. He has taught at numerous dance centers, festivals, and universities both nationally and internationally, including Yale University, Boston University, Argentina Contact Festival, Freiburg Festival, Earthdance, among many others. He has worked and performed with Nancy Stark Smith, as well as with many of the founders and prominent leaders in CI including: Daniel Lepkoff, Nina Little, Andrew Harwood, Kirstie Simson, K.J. Holmes, and many others. Patrick has a background in modern dance, Body-Mind Centering®, bodywork, yoga, theatre, contemplative practices, expressive arts, and
martial arts.
He was certified in bodywork by Sensei Toshiko Phipps and Nationally Certified in 1993.